HRH Prince Edward visited Surrey Lifelong Learning Partnership's Bike Project on 25th June to celebrate its achievements over the last 6 years and to meet the beneficiaries, volunteers and partner organisations who have made it all happen. He was accompanied by the Lord Lieutenant of Surrey, Michael More-Molyneux. 
Over 80 people attended the event in Guildford where the Prince talked with those refurbishing bicycles in the project's workshop, presented City & Guilds Certificates to learners and unveiled a plaque to mark the occasion, before finally cutting a celebratory cake. 
The Project was originally established with support of volunteers and Guildford Borough Council, which provides premises, together with support from the Safer Guildford Partnership and Surrey County Council. More recently it has also been established in Walton-on-Thames with support from Walton Charity.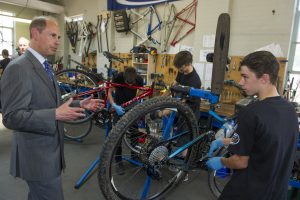 Derek Pollard OBE, Chairman of Surrey Lifelong Partnership (SLLP), said "The Bike Project is important because it provides time and space to engage with those that others have given up on – and crucially – in a 'real' work environment.  It has proved successful in helping these people achieve and change level – in terms of independent living, qualifications, jobs, and even in starting their own businesses" 
The project provides free skills, accredited training and work experience to jobseekers.  Developed and managed by John Thurlow, it also generates income through the sales of refurbished bicycles which makes a significant contribution to business costs. However, it is recognised that what is needed now is to develop this social enterprise so that it is fully sustainable. 
Kevin Delf, Chief Executive of SLLP commented: "Today's event has been a huge success in raising the profile of the Bike Project and emphasises the importance of engaging partners to build on successes to date and put things on a fully sustainable footing." 
He continued: "We are grateful to the many organisations who attended to make it a celebratory and joyous occasion on this the hottest day of the year:  to Guildford Borough Council which provides premises for the project; to our partners who have provided grants and funding, refer beneficiaries, provide bikes for refurbishment; to the generosity of our volunteers and not least to our dedicated team of staff."  
All attending were delighted that the Prince took time to talk to each and every individual present  personally.  
Others attending the event and presented to the Prince included Cllr Richard Billington (Deputy Mayor of Guildford, Peter Martin (Chairman, Surrey County Council), James Whiteman (Managing Director, Guildford Borough Council) and Jim Glover (High Sheriff of Surrey) who purchased a bicycle auctioned during the event.    
SLLP is always interested to hear from organisations and individuals who would like to offer time, expertise, ideas or resources. 
For more information please contact:  
John Thurlow – Bike Project Coordinator – jthurlow@surreyllp.org.uk 
Kevin Delf – Chief Executive, Surrey lifelong Learning Partnership – kevin.delf@surreyllp.org.uk