The Walton Bike Project was created as a Social Enterprise to provide community skills, confidence-building and progression for local, disadvantaged, residents. Set up in March 2016 with three year funding from Walton Charity to support staff funding and a grant from Surrey County Council to cover set up costs.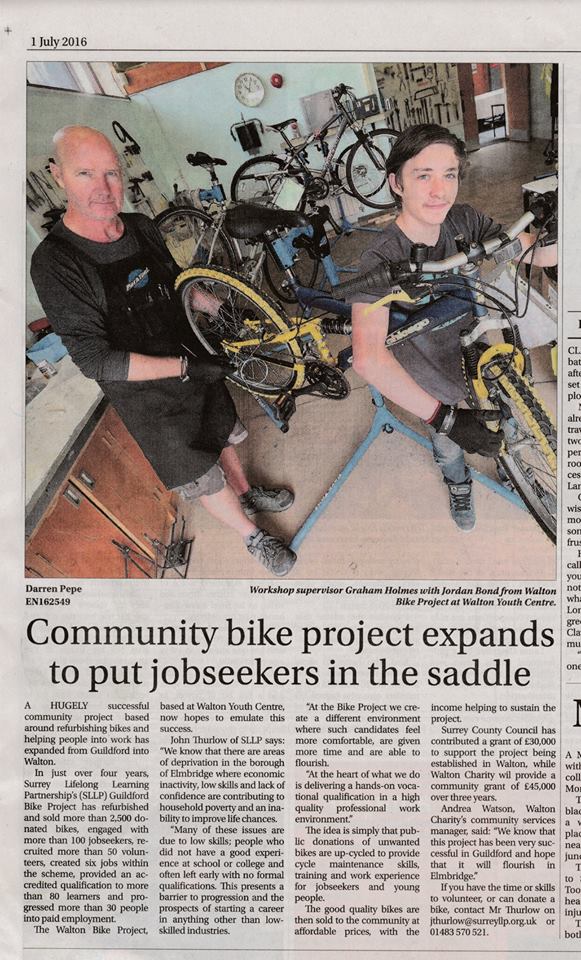 The Bike Project has now been open for 12 months, has met its objectives, and has made significant progress in many areas, including:
One Level 1 and two Level 2 cycle mechanics courses have been delivered for local jobseekers
We secured funding from the Surrey Young Person's Fund to get a young person through the Level 1 qualification (normally only funded for 19+ adults)
Our accredited learning offer has been expanded to include IT & Employability courses for local residents – two have take place so far at the Youth Centre for a total of twelve local residents
Some of the candidates for these accredited courses have been recruited from our employment initiative project (ETHOS) we run in parternship locally with Paragon Housing
We have received additional funding to allow us to deliver 'pilot' Traineeships for five 16-18 year olds from April
We have provided work experience placements for Year 10 and Year 11 pupils from local schools
We have also provided a reparation and restorative justice capability for Youth Support Service
Local volunteers have been recruited and have started supporting young people in the workshop
Working in partnership with Walton Charity, we have set up an individual grant scheme to provide bikes to local residents – so far twelve bikes, helmets and locks have been provided
The project has been promoted internally to Paragon Housing staff (encouraging them to donate bikes, buy bikes and get bikes serviced) and will shortly be advertised to all Paragon tenants
We are already providing bike servicing for local residents – they are encouraged to bring their bikes to the project for an assessment
We have collected abandoned bikes locally from Walton & Weybridge stations (by arrangement with South West Trains and British Transport Police)
We have also collected abandoned bikes from Elmbridge Borough Council and from Paragon Housing
We are talking with other local Youth Centres about partnership working – offering peripatetic bike maintenance classes
Minister for Civil Society, Robert Wilson, visiting the Walton Bike Project.